That's right! 505-Junk has officially been hauling junk across Greater Vancouver and the Fraser Valley for 8 years. It feels like just yesterday when our co-founders, Scott Foran and Barry Hartman, were partnered on a school project at Kwantlen Polytechnic University and dropped out of college to pursue their dream. Soon after, they had purchased a Ford F250 and a trailer from the side of the road (for $700), 505-Junk was born.
It's been a long journey with many ups and downs, a few minor logo changes, and some serious truck upgrades. We started 8 years ago in the basement of Hartman's house, and now occupy two offices in Richmond and Vancouver.
In the summer of 2011, when 505-Junk's first job was completed, it didn't take long for the momentum to start rolling. The concept of recycling materials (and donating goods that were still in good shape) was still in its infancy in the industry. Three months after opening shop, we were already nominated for the Best Concept Category at the Small Business BC Awards (where Hartman now sits on the board of directors).
The first year went better than we ever could have expected and it was time for us to start growing. We hired our first full time employee, Alex Elsey, who is now the General Manager of our Greater Vancouver franchise. Alex fit right into what we were looking for when hiring our first employee. We needed someone who could help change people's lives for the better with a positive attitude and great sense of humour.
It wasn't too much longer that we continued to disrupt our industry. In 2014, we developed our country's first onboard weighing system (scales) on a junk removal truck. This allowed us to weigh our client's material, create an invoice and accept payment on-site. Our goal was to provide complete transparency in the junk removal industry and add more value to our clients. Today, we still strongly stand behind this concept. Our residential customers and commercial accounts love that they only pay for the weight of what is taken away rather than volume or the time that is takes to load the truck. At the end of the day, we pay by weight at the transfer stations as well.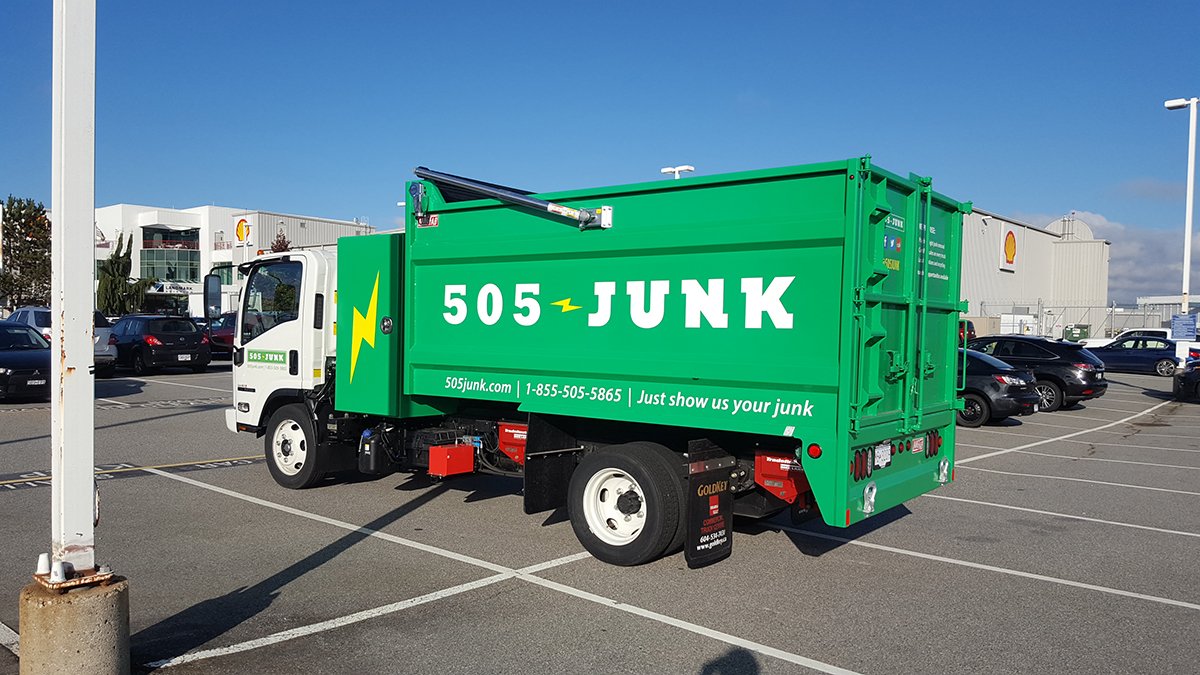 "It's not about creating a successful business, it's about creating successful people. From there, businesses will be successful."
In 2017, we announced that we would be start partnering with franchisees. By late 2017, we had launched our first two franchise locations: one in the Tri-Cities area and one covering the Fraser Valley. Once the first 2 franchises launched, we put a pause on any future franchises as we wanted to learn with the franchisees and support their growth. This has been one of our main goals since we started. It's not about creating a successful business, it's about creating successful people. From there, businesses will be successful.
Looking back on everything that has changed in the last 8 years, we want to thank all of you! This includes the clients that regularly use our services, the suppliers that we have worked with over the years, the mentors that have helped us grow, every staff member, and our franchisees. We would not be here today without all of your support.